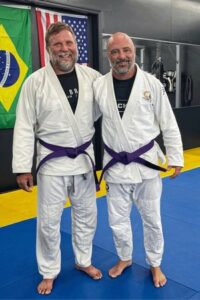 When you think about the color purple, what comes to mind? The Pulitzer prize winning novel written by Alice Walker? The Spielberg directed movie that won Whoopi Goldberg an Oscar and gave the world Oprah Winfrey's famous "You Told Harpo to Beat Me" monologue? Perhaps it conjures to mind a beloved children's character – Barney the Dinosaur, Tinky Winky from the Teletubbies, Count von Count of Sesame Street or The Grimace of McDonald's fame? Or could it create a memory of the beloved decades-old children's book involving a young boy named Harold and his adventures with a crayon of said aforementioned color?
Be honest – it really makes you think of Prince, doesn't it – "Purple Rain" is and always will be a true classic as His Royal Badness was a true American icon … and his work in helping create Morris Day and the Time should always be commended.
We digress … today on The Overlap Podcast, purple reigns over the discussion because of a big life event for our boys Sid and Keith – Keith's pregnant and having Sid's baby … er, we mean, they both recently attained a high honor within the world of jiu-jitsu by earning their purple belt (even though it clashes terribly with those white … jiu-jitsu suits whose name we can pronounce but never remember how to properly spell). Fashion concerns aside, this marks a milestone for both our boys, as it took both of them 5 to 6 years to attain this rank, longer than it would to earn a bachelor's degree (which would be a first for Keith).
You might be tempted to skip this episode … we get the impulse, as our eyes glazed over when the topic was told to us. However, hear us out – this is actually an incredibly important episode that isn't just self-congratulatory claptrap. Our boys banter about what it took to get there – from the importance of doing the hard work to creating community and commonality, things that can be applied to more than just wrasslin' around in weird suits with clashing belts. And, as an added bonus, you get to hear multiple tales of both Sid
and Keith getting choked out and becoming unconscious. We don't know about you dear listeners, but the image of choking Keith until he's unconscious is really … just delightful for us to imagine.
So turn it on, tune in and turn it up – it's Purple Week here at Overlap. Whether that's the belt they're wearing or the color of Keith's face as our hands slowly close around his windpipe … we'll let you decide.
RELATED EPISODES